Building an Enterprise of Happiness Together
Speech by Chairman James Chen at Everlight Chemical Culture Camp
In 2015, with advice from Professor PY Chu of National Chiao Tung University , and over one year's discussion, Everlight Chemical drew up Vision 2020: "Become a sustainable, innovative global enterprise of happiness offering green chemical solutions." This is the goal everyone is working toward.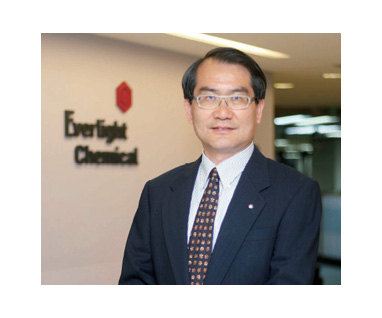 Vision 2020 and the Enterprise of Happiness
In order to achieve sustainable development, Everlight Chemical decided to pursue expansion very early on. The company continues to accumulate capital as the foundation for the investment in new enterprises and to remain resilient to changes in the environment. As competition heats up and demand becomes higher, innovation has become part of our DNA and a prerequisite for survival.
Providing green chemical solutions is our mission. Everlight Chemical is a leader of the industry for implementing the concept of green chemical processes from research and development to production. As globalization continues, we need not only chemical engineers and technological elite but also pioneers willing to explore new territories.
Since the Honorary Chairman set up Everlight Chemical, the company has dedicated itself to being an "enterprise of happiness," helping people feel secure and develop full potential, while contributing to society. Plant III's reception of the Ministry of Labor's 2016 Work-Life Balance Award shows that true success is not just about work achievement but a balanced life with family, health, and recreation. Now I will talk about how to build an "enterprise of happiness" in three stages.
1.Overview of Everlight Chemical
Everlight Chemical is a small but well-organized chemical technology firm. In the early '70s, the company responded to the government's economic policies and started to manufacture substitutes for import, such as color chemicals, specialty chemicals, pharmaceuticals, electronic chemicals, and toners to support the booming domestic industry sectors with local supply and profit growth. We have clear growth strategies. Currently, we are making progress in expansion (capital accumulation and public offering), internationalization (global strategies and cross-country partnerships), diversification (transformation, upgrade, innovation, and research and development), and conglomeration.
On the ends of the smiling curve are two high value-adding components: design and R&D on one end and brand marketing on the other. At the bottom of the curve are manufacturing on one side and assembling and packaging on the other. The low value-adding components are usually contracted out. However, for the specialty chemical industry, the combination of production and formulae is part of the core technology, so we will not give up the production work. Everlight's strategy is raising the added value of the entire value chain.
Nowadays, businesses have to offer service as well as products. Service is becoming as important as products. We hope that Everlight will become a company that emphasizes overall solutions and complete services. This is the way to win over world-class clients and become their partners in the development of new products. Therefore, we need more professionals who have knowledge of the industryand technological capacities and who are willing to be dispatched around the world to serve our clients. We hope every new employee will be willing to learn, grow, take up challenges, and help solve problems for clients in every part of the world.
2.Corporate Culture, Foundation of Sustainability
Corporate culture is like love. Although you can't see it, you can feel it.
Culture is the common values of a group of people. Corporate culture is a business's sense of value and the foundation of the business's sustainable development. Everlight Chemical has a fully developed corporate culture, expressed in such areas as founding purpose, business philosophy, business principles, positioning, visions, and core values.
Everlight Chemical has an admirable corporate culture whose core value is "business by integrity and management by love." Our corporate image of integrity is based on honest communication and regulation compliance, steadfast adherence to business agreements and commitments, and compliance with globally accepted business ethics principles. "Management by love" means trust, respect, care, and motivation. Everlight Chemical's corporate culture is based on the Golden Rule from the Bible — "So in everything, do to others what you would have them do to you" (Matthew 7:12), which is similar to Confucius' maxim "Do not do to others what you do not want them to do to you."
Guided by our corporate culture, we pursue excellence and participate in world-class competitions; we promote character education and enrich employees' lives; we give employees the ability to make the right decision, develop their positive thinking, help them establish interpersonal relationships, and give them the courage to take up responsibilities and challenges. At the Democratic National Convention in Philadelphia in July 2016, US First Lady Michelle Obama said in her speech, "When they go low, we go high. We do not stoop to their level." The insistence on maintaining one's character is the spirit of Everlight Chemical's culture. We win the respect of society with honesty; we value teamwork and mutual respect; we gratefully cherish our blessings and keep improving and perfecting everything we do.
3.New Vision, New Challenge
Lee Kuan Yew, Prime Minister of Singapore and the nation's founding father, turned Singapore into the greatest miracle in modern Asia . Reading his last book, One Man's View of the World, I realized that Singapore is a small country with immense power. It is a model for us to emulate. I have slightly modified the following passages from the preface of the book to share with you all:
The world changes rapidly and extensively. Everlight cannot just accept things passively. We have our principles because we believe that our efforts can gradually influence our surroundings and change the society.

We can make the maximal use of limited space and move among multinational giants. This has always been our way. If we want to continue doing so, we have to remain alert and adapt to changing situations.
For Everlight Chemical, success depends on three things:
Making sure that employees feel secure and dignified working for the company.
Fair treatment of all employees.
Helping everyone in Everlight to succeed.
Without these three basic, time-proven factors, we will lose our advantage.
Every employee is important. Let us help each other and build an enterprise of happiness together!