Solution of Ribbon Dyeing
Ribbon dyeing
Ribbon is a product which can be seen everywhere in our daily life, such as: ribbons on clothing, on gift boxes, car seat belts, binding belts, lifting ribbons, and even parachute belts, etc. These are all common application of ribbons. Continuous dyeing (Pad-Steam) is the most popular way of ribbon dyeing. Depending on its material, ribbons will be dyed with different types of dyestuff, i.e. dyeing cellulose fibers with reactive dyes (Everzol), dyeing nylon fibers with acid dyes (Everacid), but dyeing silk/wool fiber with dyes based on needs. Choice of dyes is the key to the success of dyeing ribbon.
Common problems of Ribbon dyeing
Hard to find suitable dyes
Difficult to control at the optimal dyeing condition
Poor reproducibility from the lab to bulk
Dyeing Solution on Ribbon - Dyes
The choice of dyes is the key to the success of ribbon dyeing. Factors to consider includes stable quality, wide color range, and good performance to meet various fastness requirements. Everlight Chemical specializes in producing professional dyestuff, and providing a complete product range with options, including Reactive dyes Everzol, Acid dyes Everacid, which also gives our customers unlimited possibilities for ribbon dyeing.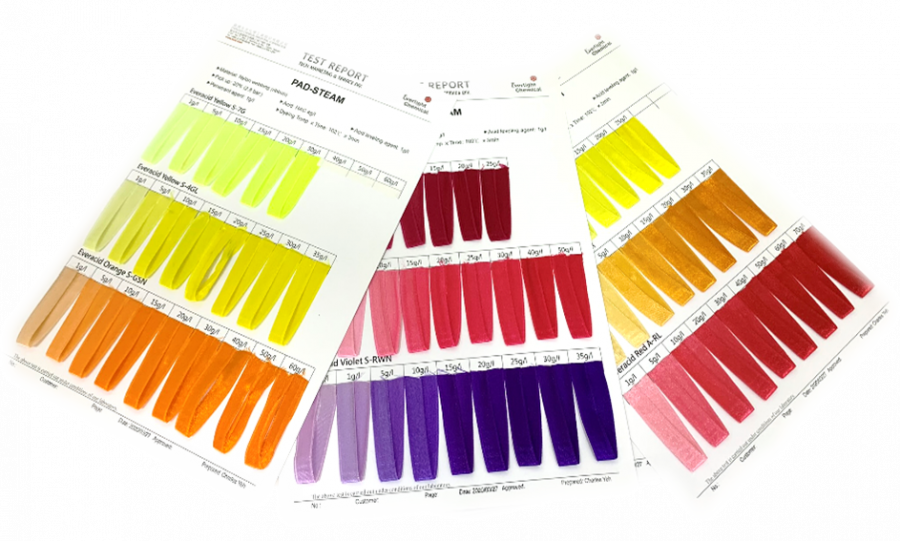 Dyeing Solution on Ribbon - Application
Considering factors such as the material of ribbon, the choice of dyes, or the limitation of the dyeing machine, etc., testing and research by the professionals are necessary to discover the best dyeing conditions. Everlight Chemical acquires comprehensive knowledge of products in different application and also has long experiences in dyes selection, which therefore strengthen our ability to suggest the optimal conditions for ribbon dyeing.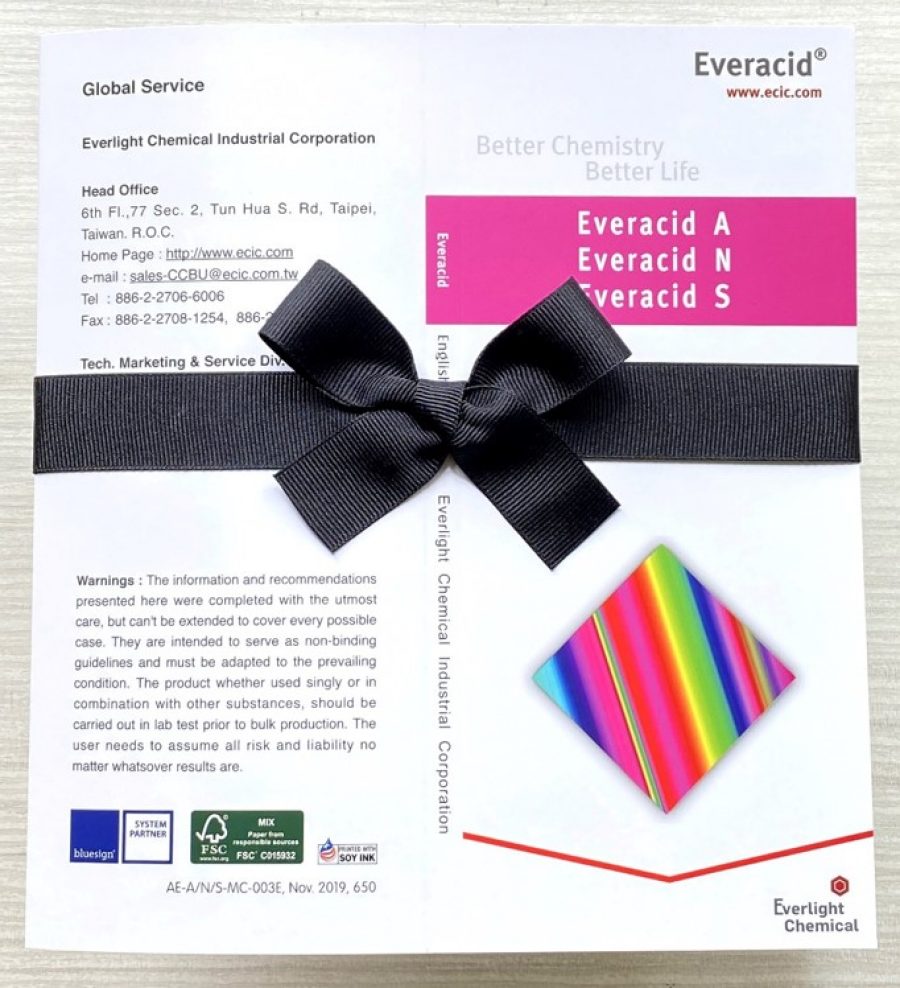 Dyeing Solution on Ribbon - Equipment
Continuous Pad-Steam dyeing method is recommended to dye ribbon. The closer the dyeing conditions it is to the lab, the higher possibility to obtain the same result in bulk.
To replicate dyeing in lab to actual production, Everlight Chemical cooperates with equipment manufacturers to jointly develop a small-size continuous Pad-Steam equipment, so that the condition of actual production could be closer to that in lab, which also facilitates the analysis of the application analysis of ribbon dyeing.